Flute Lesson
赤木 りえ フルートレッスン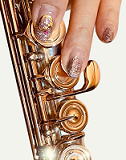 フルートを愛する皆様に、もっと明るく楽しく、そして自由奔放に吹いていただきたい!
こんな気持ちを長年抱いてきました。
そしてここ数年、各地でワークショップやクリニックを通し、たくさんのフルートを愛する方たちと出会いました。
彼らの要望でとても多いのが、「ポップスをもっとカッコよく吹けるようになりたい」ということ。そこで、東京でも大変不定期ではありますが、レッスン・サロンを開設することになりました。
ここでのレッスンを通して、フルートを吹くことを、もっともっと楽しくなっていただければと心から願っています。
- レッスン内容 -
●音の響かせ方、奏法 
●リズム 
●ハーモニー、アレンジなど
●アドリブ(即興演奏)
- 受講していただくときに -
現在練習しているエチュード、曲、またこれから吹いてみたい曲などお持ちください。
(クラシック、ジャズ、ラテン、日本の音楽など、ジャンルは何でもOKです)
- 対象レベル -
中上級 
(目安として、アルテスフルート教則本第2巻、ケーラー35 の練習曲Op.33第2巻 終了以上)
とても不定期なレッスンですので、基礎は既にできている方を募集します。
音大生やセミプロの方、吹奏楽などに参加されている方も歓迎です。
- レッスン・サロン -
東京都渋谷区千駄ヶ谷  総武線千駄ヶ谷駅から徒歩7分です。
レッスンが決まったら、詳細をお渡しいたします。
- レッスン時間、料金 -
こちらも、ご連絡いただいてからお知らせします。
The past few years, we met with people through the clinics and workshops all over, flute and lots of love.
It is that very often at the request of them, called "I want to be as cool indulge more pop."
So, although it is very irregular in Tokyo, it was decided to open a salon lessons.
We sincerely hope through the lesson here, and if it is possible become more and more fun, and that the flute.